RADIO STATION


East Los FM 106.2

Location:
El Burro Heights
Genre:
Mexican electronica
Traditional Mexican songs
Hip hop
Rock
Ska
Appearance(s):
Grand Theft Auto V
Host:
Don Cheto & Camilo Lara
"Mexican electronica mixing corridos and traditional songs with hip hop, rock, and ska."
— GTA V Website
East Los FM 106.2, or East Los FM for short, is a radio station featured in Grand Theft Auto V. The main DJ is Don Cheto with the secondary DJ being Camilo Lara, presented as Instituto Mexicano del Sonido. The station is mostly spoken in Mexican Spanish, and the music it plays is also in Spanish.
It is very likely that the Vagos gang listen to East Los FM. East Los FM is based in East Los Santos, the territory of the Vagos. This station can also be heard in every taxi in Los Santos.
La Sonora Dinamita are actually Colombian, La Vida Boheme are Venezuelan and Los Ángeles Negros are Chilean-Mexican.
This is the third Latin music station featured in the GTA series, the first being Radio Espantoso (Latin jazz) in GTA VC and VCS, and San Juan Sounds (Reggaeton) in GTA IV and TBoGT.
This is the first station to feature songs made by Mexican and some South American artists.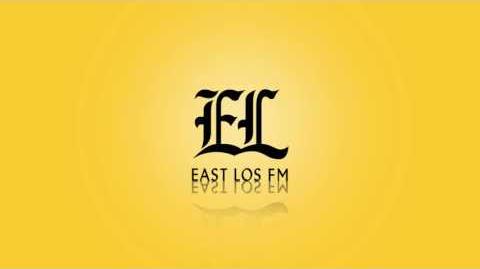 Heavy Heavy Monster Sounds and Bush Sounds, radio stations in GTA London 1969 and 1961 which also play Ska, but Jamaican.
Radio Espantoso , a Latin radio station featured in Grand Theft Auto: Vice City and Grand Theft Auto: Vice City Stories that plays Latin Jazz.
San Juan Sounds , a Latin station featured in Grand Theft Auto IV and its episodes that plays Reggaeton and some Latin Pop and Bachata.