RADIO STATION


The Lowdown 91.1

Location:
Grapeseed
Genre:
Classic Soul
R&B
Appearance(s):
Grand Theft Auto V
Host:
Mama G
"The groove, the soul, the R&B. You dig?"
— GTA V Website.
The Lowdown 91.1 is a radio station that plays funk, soul and R&B music featured in Grand Theft Auto V. Pam Grier (Mama G) is the radio DJ. The radio station appears to be based on Master Sounds 98.3, a radio station from GTA San Andreas that plays the same type as music as this does.
Aaron Neville - Hercules (1973)
B.T. Express - Do It ('Til You're Satisfied) (1974)
El Chicano - Viva Tirado (1970)
George McCrae - I Get Lifted (1974)
Marlena Shaw - California Soul (1969)
Smokey Robinson - Cruisin' (1979)
The Delfonics - Ready or Not Here I Come (Can't Hide from Love) (1968)
The Five Stairsteps - O-o-h Child (1970)
The Soul Searchers - Ashley's Roachclip (1974)
The Trammps - Rubber Band (1972)
The Undisputed Truth - Smiling Faces Sometimes (1971)
War - The Cisco Kid (1973)
Exclusive for PS4, Xbox One & PC versions
Brass Construction - Changin' (1975)
Johnny "Guitar" Watson - Superman Lover (1976) *
Ohio Players - Climax (1974)
Pleasure - Bouncy Lady (1975)
The Delfonics - Funny Feeling (1969) *
The Chakachas - Stories (1972)
The Jackson Sisters - I Believe In Miracles (1973) *
Eric Burdon & War - Magic Mountain (1970) *
( * These songs were originally cut from previous-gen versions)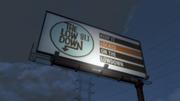 In the game, Cruisin' is incorrectly credited to Smokey Robinson and The Miracles. Smokey had split from the group for seven years by the time the song was released. The digital game manual credits the song solely to Smokey Robinson, however.
In beta version of GTA V, Lowdown FM's logo could have had a different color scheme, as seen on a billboard in Los Santos.